Business Impact & Results
Ever wondered what impact it would have if your business went on Dragons Den?
Barking Bags had 25,000 people at 1 single moment go onto the website. We made sure that everything was absolutely perfect for this moment.
That one day alone, over 200,000 people visited the Barking Bags website. They achieved £30,000 worth of sales before the Dragons Den episode had finished.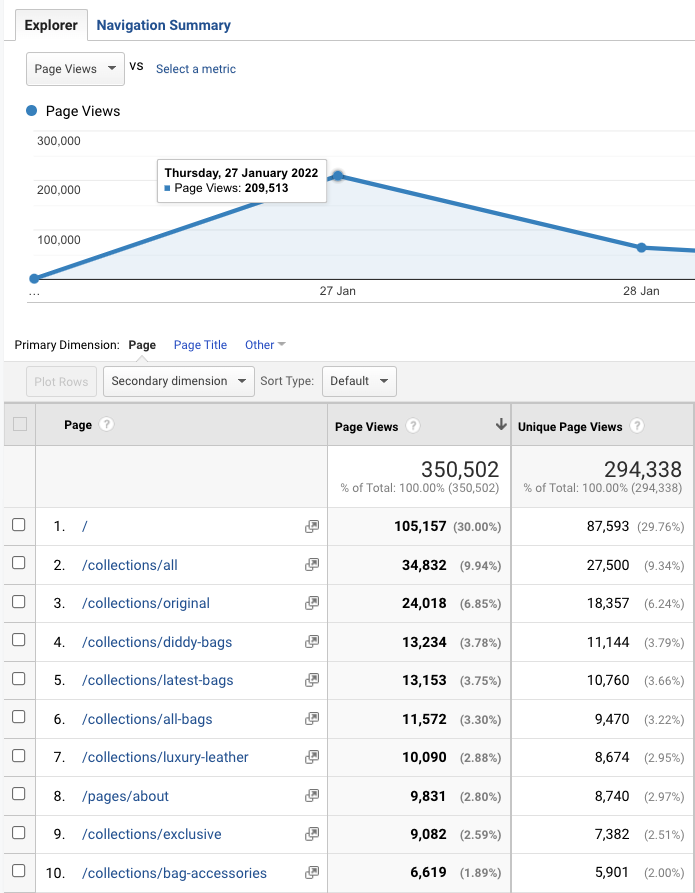 Barking Bags also rank 1st for Dog Walking Bags on Google, ranking above Amazon.

The Project Journey
We started the project with a couple of strategy meetings, assisted by WHP Creative who was helping Barking Bags with their branding at the time.
We recommended it would be a sensible idea that WHP Creative create the eCommerce design, and ourselves execute the development & launch of the store.
Our internal team at Global Exposure had made sure we had everything covered in regards to setting up Abandoned Carts to capture lost revenue, setting up Free Gift Mailchimp forms with automatic responses, and optimising loading speeds as best as we can.
Instead of showing "Out of stock" on products, we enabled an integration which meant that Barking Bags saved over £15,000 in recovered revenue by alerting users when stock quantities changed. See the screenshot below.
We had around 4 weeks to action all development of the eCommerce store, and managed to launch the store early with some breathing space.

Client Feedback
"The Global Exposure team have helped us take our business to the next level and we couldn't have done it without them. Our company, Barking Bags were recently on Dragons' Den and in preparation we had to make sure we had a website fit for purpose and maximising on SEO opportunities.
Global Exposure took this on, even putting in the extra hours needed to make sure we were ready for whatever came our way after the appearance on the BBC. They helped set up the Shopify system to streamline sales, advising us on what applications would best suit our needs and also where not to waste money on apps that weren't necessary.
We've always found them easy to work with, accessible and helpful and would have no hesitation in recommending them to other businesses." – Debbie & Rob, Owners of Barking Bags
Do You Need Results Like This?
Leave your details & see
success

come your way